Since 1996, St. Joseph Habitat for Humanity has worked within our community, building decent, affordable homes for those in need. We've grown from an "all-volunteer" organization to a community-supported organization in St. Joseph.
Building and revitalizing homes and neighborhoods is visible: building hope while transforming lives is what is felt throughout the community, from our homeowners to all the selfless volunteers. Together, we are able to work side by side with families of low income to make their dreams come true.
St. Joseph Habitat for Humanity is part of a global, nonprofit housing organization operated on Christian principles that seek to put God's love into action by building homes, communities, and hope. St. Joseph Habitat for Humanity is dedicated to eliminating substandard housing locally and worldwide through constructing, rehabilitating, and preserving homes, by advocating for fair and just housing policies, and by providing training and access to resources to help families improve their shelter conditions. Habitat for Humanity was founded on the conviction that every man, woman, and child should have a simple, durable place to live in dignity and safety, and that decent shelter in decent communities should be a matter of conscience and action for all.
All Are Welcome Here
St. Joseph Habitat for Humanity has an open-door policy. All who believe that everyone needs a decent, affordable place to live are welcome to help with the work, regardless of race, religion, age, gender, political views, or any of the other distinctions that too often divide people. In short, Habitat welcomes volunteers and supporters from all backgrounds and also serves people in need of decent housing regardless of race or religion.
About Habitat for Humanity Int'l
As a matter of policy, Habitat for Humanity International and its affiliated organizations do not proselytize. This means that Habitat will not offer assistance on the expressed or implied condition that people must either adhere to or convert to a particular faith, or listen and respond to messaging designed to induce conversion to a particular faith.
Our Vision

A world where everyone has a decent place to live.

Our Mission Statement

Seeking to put God's love into action, we bring people together to build homes, communities, and hope.
Meet Our Staff
Shay Homeyer

Executive Director

Sue Barton

Comptroller

Rita Boyer

Office Manager

Liz Broadus

Homeowner and Volunteer Services Director

Randy McKnight

Construction Director

Harlan Woodward

Construction Manager

Ed Young

Construction VIP

Charlie Ellis

Building Maintenance Supervisor

Tim Osborne

Restore Director, Community Outreach Director

Zion Broadus

ReStore Assistant Manager, Marketing Coordinator

Nate West

ReStore Donations Manager, Driver

Jessica Rock

ReStore Associate

Deon Barnes

ReStore Associate

Brenda Taylor

ReStore Associate

Sandy Ellis

ReStore Associate
Meet our Board
Nate Johnson

President

Rodney Hummer

Vice President

Eric Uehlin

Treasurer

Cody Vaughn

Secretary

Amanda Chen

Brian Dierberger

Pat Dillon

Ryan Dowell

Terry Hall

Ron Hook

Robin Kilgore

Brent Larson

Lisa Little

Ken Maxey

Gerald McCush

Lee Ann Smiley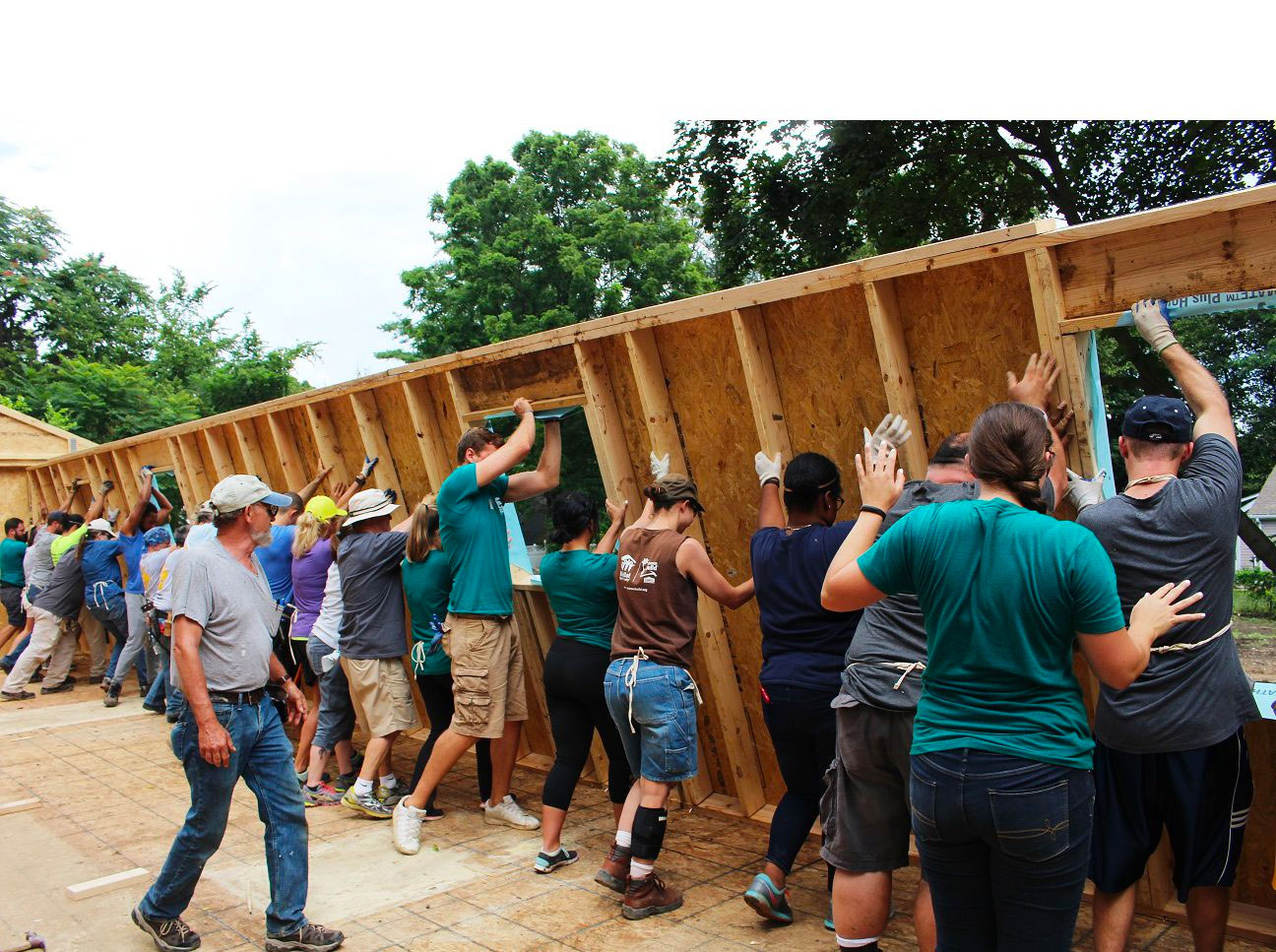 Frequently Asked Questions
What does St. Joseph Habitat for Humanity do, and how does it work?

St. Joseph Habitat for Humanity builds homes in St. Joseph for low-income families in need of decent, safe, and affordable housing. Our vision is to eliminate substandard housing in the St. Joseph community. Volunteer labor is used to build homes to keep building costs low for our families. But, we are not a giveaway program. Partner families pay a down payment and a monthly mortgage payment. They also invest hundreds of hours of their own labor, called "sweat equity," into building their own homes.

As Habitat for Humanity homeowners pay their mortgages, the money goes into a revolving fund that helps build houses for other families. In 2012, we expanded our services to include our Neighborhood Revitalization Initiative. This service provides home stabilization products, such as critical home repair, weatherization, exterior painting, and roof and siding repair.

Our Neighborhood Revitalization Initiative supports our efforts to transform entire communities, house by house, block by block, neighborhood by neighborhood. Our new construction builds and our Neighborhood Revitalization Initiative enable us to serve more low-income families in our community by empowering residents to revive their neighborhoods and enhance their quality of life.

Where are St. Joseph Habitat for Humanity homes built, and who builds them?

Individuals and groups from St. Joseph and the surrounding area donate their time to help build these homes. Partner families also invest at least 400 hours of "sweat equity" into the building of their own home, or the home of another Habitat homeowner.

How big is a St. Joseph Habitat for Humanity home, and how much does it cost to build one?

It costs an average of $65,000 to build a St. Joseph Habitat for Humanity home. The typical three-bedroom home has 1,050 square feet of finished living area. They are affordable to families of low income because there is no profit included in the sale of the home and no interest charged on the mortgage. The mortgages are financed, on average, for 20 years.